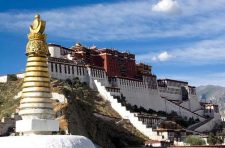 Tibet, often referred to as the 'Roof of the World', stands aloof as the largest and highest plateau on Earth. Our 12 days Tibet tour provides you the unique opportunity of delving into the quaint yet mesmerizing beauty of this plateau. Meet its people, learn their culture, their spirituality, get to know Buddhism from its very roots, gape with awe at its scenic landscapes and widespread wildlife all these crowned with a spectacular view of the majestic Mt. Everest.
Tour Code: TBT10
Destinations: Lhasa, Mindroling, Tsedang, Gyantse, Shalu, Shigatse, Sakya, Tingri, Everest Base Camp
Departure: Daily
Duration: 12 days
Language: English
Please send us an email to enquiry.
Details (B=Breakfast, L=Lunch, D=Dinner)
Day 01 Lhasa Arrival
Arrive at Lhasa airport. You will be met and transferred to hotel. Remainder of the day is at leisure to adjust the high altitude. Lhasa City means "Holy City" in Tibetan language. As a capital of Tibet, Lhasa dates back to 7th century AD when King Songtsen moved his capital from Yarlung to Lhasa.
Day 02 Lhasa B.L
Start your tour with Jokhang Temple, which is the first Buddhist temple in Tibet. All year-round many Tibetan Buddhists go on a pilgrimage to the Jokhang Temple. Then walk along the Barkhor Bazaar, Barkhor refers to Lhasa's pilgrimage circuit, a quadrangle of streets that surrounds the Jokhang and some of the old buildings adjoining it. Barkhor is both the spiritual heart of the holy city and the main commercial district for Tibetans. Continue your trip to Norbulingka Park. Located in the western suburbs of Lhasa, Norbulingka was Summer Palace of Dalai Lama.
Day 03 Lhasa  B.L
In the morning, you will visit the most holy monastery in Tibet – Potala Palace, which was the winter palace and the chief residence of the Dalai Lama since the end of the 17th century. After lunch at local restaurant, you will visit Sera Monastery, which is one of China's elite Buddhist monastic educational institutions. It dates back to the early 15th century.
Day 04 Lhasa –Mindroling-Tsedang B.L.D (220 km, estimate 6 hrs drive)
Drive to Tsedang, on the way visit Mindroling Monastery, which is the most significant monastery of Nyingmapa sect. It was founded at the end of 10th century and rebuilt in 1676 by Terdak Lingpa. And then pay a visit to a local family. Check into Hotel in Tsedang upon arrival.
Day 05 Tsedang  B.L.D
After breakfast drive to visit Samye Monastery (100 km, estimate 3 hrs drive), Samye is famous for its sacred mandala design. It is also a popular pilgrimage destination for Tibetan Buddhists, some of whom travel on foot for weeks to reach it. After lunch, continue your trip to Yumbu Lhakhang Palace. Yumbu means female deer, because the Tashi Tsere Hill appears like a female deer, and Lhakang means holy palace. The Yumbu Lhakang is the first palace in Tibet and was built by Nyechi Tsanpu, the first Tibetan King in 2 century B.C. and Tradruk Temple, Located in the Yarlung Valley, it  is the earliest great geomantic temple after the Jokhang.
Day 06 Tsedang-Yamdruktso-Gyantse B.L.D (330 km, estimate 9 hrs drive + visit)
Drive to Gyantse. On the way visit Yamdruktso Lake, Yamdrok-Tso Lake is 130km long from east to west and 70km wide from north to south. It is the largest lake at the north foot of the Himalayas. Then pass by Karola Pass. Check into Hotel in Gyantse upon arrival.
Day 07  Gyantse-Shalu-Shigatse B.L.D (110 km, estimate 2.5 hrs drive)
Visit Palkhor Chode Monastery, which occupies an important place in Tibetan Buddhism history because different Buddism sects, like Gelugpa, Sakyapa, are compatible in this monastery. and then you will travel to Kumbum Stupa, Kumbum Stupa, capped with a gold dome, is the landmark of Gyantse. After lunch, drive to Shigatse. On the way visit Shalu Monastery. Late afternoon explore the local market. Check into hotel in Gyantse upon arrival.
Day 08 Shigatse-Sakya-Tingri B.L.D  (310 km, estimate 8 hrs drive + visit)
After breakfast, drive to Tingri, and visit Sakya Monastery en route. Sakya Monastery is famed as the 'Second Dunhuang' due to its colossal collection of numerous Tibetan Buddhist scriptures, murals and Thangkas. Check into hotel in Tingri upon arrival. Lunch at local restaurant.
Day 09 Tingri-Everest Base Camp-Tingri  B.L.D  (220 km, estimate 7 hrs drive)
Early morning drive to Everest Base Camp and visit surroundings. Hike up to the top of the photo point to take pictures of the splendid- Mt. Everest. Return to Tingri after visit.
Day 10 Tingri-Shigatse  B.L.D
After breakfast, drive to Shigatse and check into hotel in Shigatse.
Day 11 Shigatse-Lhasa B.L.D (280 km, estimate 6 hrs drive)
Visit Tashilhunpo Monastery in the morning. Tashi Lhunpo Monastery is seat to the Panchen Lama, the second most important spiritual leader of Tibet. After lunch drive back to Lhasa. Check into hotel in Lhasa. Lunch at local restaurant; enjoy your Tibetan style dinner.
Day 12 Lhasa Departure B
After breakfast, transfer to Lhasa airport for flight to your next destination
Service included
A. Hotels (twin share basis) with breakfast
B. Private car or van with driver
C. English speaking tour guide
D. Entrance fees
E. Meals as listed in the itinerary.
F. Tibet travel permit
Service excluded
A. Airfare or train tickets.
B. Tips to guides and drivers.
Reservation:
Tel: +86 178 1320 5162
E-mail: service@intochinatravel.com
Skype ID: intochinatravel