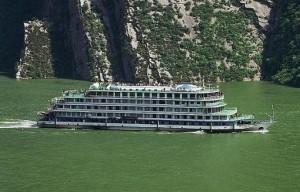 Tour Code: YR03
Destinations: Shanghai,  Yangtze Cruise, Chongqing, Lijiang, Kunming, Hong Kong Tour
Departure: Daily
Duration:  11 days
Language: English
Please send your enquiry by email or phone.
Details (B=Breakfast, L=Lunch, D=Dinner)
Day 01 Arrive Shanghai
Arrive in Shanghai International Airport and be greeted by our guide who will escort you to the hotel, and the rest of the day is leisured.
Day 02 Shanghai B.L.D
This day we tour the acclaimed Shanghai Museum, with its priceless collections of ancient Chinese bronzes, ceramics, calligraphy, paintings and furniture. And peaceful Yu Yuan Gardens, a traditional Chinese garden whose plantings, courtyards, pavilions, and create the illusion of mountains and lakes. Tonight we attend Chinese acrobatics show after dinner.
Day 03 Shanghai to Yichang for Yangtze River Cruise B.L
When you arrive in Yichang Airport and you will be greeted by our guide. Our guide will escort to super deluxe cruise ship and help you check in at the ship.
Day 04 Yangtze River Cruise B.L.D
Today we begin our sailing of the splendid Three Gorges. The first pass the east part of the Xiling Groge; then, arrive at Sandouping Pier. We do a shore excursion to massive Three Gorges Dam Project which is the largest water conservancy pivotal project in the world today. And we will pass the Three Gorges Dam 5-stage Ship lock. Tonight you attend the Captain's cocktail party.
Day 05: Yangtze River Three Gorges Cruise and Shennong Stream Shore Excursion B.L.D
Today continue sailing through the whole splendid Three Gorges. Passing western part of Xingling Gorge, disembark at the part of Badong, for excursion to Shennong Stream which is one of the highlights of the whole Yangtze cruise. Take rowboat detouring up the ever-narrowing, ever-more shallow waters of Shennong Stream and view the mossy cliffs, hanging coffins, cliffside paintings, plank roads, verdant plants, and precious animals. Get back to have lunch on the ship. After sail through bewitching Wu Gorge which is famous for its cloudy supernatural peaks and crushing of scale, you will pass Qutang Gorge which is the shortest of them at 5 miles (8 km) long and the water flows rapidly through the gorge, pinched between cliffs. Mengliang Ladder and Bellows Gorge are two famous attractions of Qutang Gorge.
Day 06: Fengdu or Shibaozha Shore Excursion B.L.D
Disembark at Fengdu to go to Ming Shan – "the City of Ghosts" for shore excursion in the morning. Ming Shan is a mountain dedicated to the afterworld and its ruler. Or visit Shibaozhai which is an outstanding monastery sits on an island; with the beautiful 11-story Lanruo Dian (Orchid Palace) built into the cliff above. Continue sailing the Yangtze River.
Day 07: Arriving Chongqing B.L
We arrive in Chongqing in the morning, disembark  and then isit the Residence and Headquarters General Joseph W. Stilwell Chief Commander and the Chongqing Zoo to see pandas.
Day 08: Chongqing to Lijiang B.L
Fly to Lijiang. Arrive in Lijiang Airport and be greeted by our guide who will escort you to the hotel. We will begin our exploration of this splendid Lijiang Old Town at Square Street. Strolling through the Dayan Old Town which is listed as a UNESCO World Cultural heritage Site, first thing you notice is the town gurgles with water. Everywhere, canals, swift streams bubble with the crystal clear water, little bridges – stone, wooden, flat, arched, roofed, cobbled pathway, and ancient traditional house where local Naxi people still live. Then, we will visit Black Dragon Pool which is stunningly picturesque with the elegant Deyuelou placed at the center of a carp-filled pool, and back dropped by the peak of Jade Dragon Snow Mountain After have dinner, followed by a Naxi Ancient Music performance at Dongba Palace feeling the ancient Naxi culture.
Day 09: Lijiang B.L
This morning we tour the Jade Dragon Snow Mountain, where visit Baishui Tableland, the Dry Sea, go to Spruce Plateau by cable car to view the wonderful snowy scenery of Jade Dragon Snow Mountain, encrusted with snow and set against a shape with blue sky. Then, we will go to Baisha Village of Naxi minority group, where we will visit Baisha Murals which tell vivid Tibetan, Naxi and Han legends, and visit the Rock Joseph's Former Residence in Yuhu Village. Later, fly to Kunming. Arrive in Kunming Airport and be greeted by a CTF guide who will escort you to the hotel.
Day 10: Kunming B.L
Begin your discovery of this spring city at the limestone pillars of the Stone Forest which is celebrated as a natural wonder and it is the most visited sight in Kunming. Scattered around the Stone Forest are villages populated by the local ethnic minority, the Sani. This place is breathtaking – a lake, caves, gorgeous vistas of the surrounding countryside and stone formations projecting from the ground provide the feeling go being in a primeval forest. Then we go to visit Golden Temple which has the largest bronze temple building in China
Day 11: Depart Kunming
Transfer to airport for your flight to your next destination.
Service included
A. Hotels (twin share basis) with breakfast
B. Domestic flights or trains as listed in the itinerary.
C. Private car or van with driver
D. English speaking tour guide
E. Entrance fees
F. Meals as listed in the itinerary.
Service excluded
A. International airfare or train tickets.
B. Tips to guides and drivers.
Reservation
Tel: +86 178 1320 5162
E-mail: service@intochinatravel.com
Skype ID: intochinatravel