This 7 days tour will take you to explore many fantastic things in Fujian province. The sightseeing covers lots of scenic spots in Xiamen, Yongding and Wuyishan Mountain. You will visit  Gulangyu Island in Xiamen, witness the Hakka House in Yongding and travel in the the majestic Wuyishan Mountain.
Tour Code: CCT24
Destinations: Xiamen, Yongding, Wuyi Mountain
Departure: Daily
Duration: 7 days
Language: English
Please send an email to service@intochinatravel for inquiry.
Details (B=Breakfast, L=Lunch, D=Dinner)
Day 01  Xiamen
Today you will arrive in Xiamen by your own flight ticket. Upon arrival, our local representative will meet you outside baggage claim and transfer you by private vehicle to hotel for check –in. Remainder of the day is at leisure.
Day 02  Xiamen B.L
Today you will have a full day visit to Gulang Island, GulangYu Island is in the southwestern of Xiamen city, it takes just 10 minutes by local ferry boat. Then visit South Putuo Temple. It is located at the foot of Wulao Peak in the south of Xiamen built during the Tang Dynasty, which is very famous for its collection of Buddhist cultural relics. Go ahead with Ring Road, the road adhered to the principle of "facing the sea and leaving the most beautiful beach for the people".  It fully complements and brings to life the area's sub-tropical landscape.
Day 03  Xiamen-Yongding B.L
Today you will drive to Yongding, en route visit Nanjing Tianluokeng Hakka House and Yuchang House. Upon arrival in Yongding, you'll be transferred to visit Chengqi House before check-in hotel.
Tianluokeng Hakka House, located in Shangban Village, Shuyang Town. The castle, composed primarily of four round and one rectangular earthen house, is one of the most magnificent and well-preserved Hakka Castles in the area.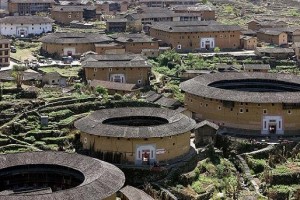 Yuchang Hakka House is located in Xiaban Village; Fuyulou was built in 1308 and is one of the oldest existing Tulou. This five-story earth building is most famous for its tilted pillars.
Chengqi Hakka House is the largest of the earth buildings. It is almost three hundred years old and is made up of four concentric circular buildings. This King of Round Earth Building has altogether 400 rooms and used to house 80 families, totaling more than 600 people in its prosperous days.
Day 04  Yongding – Xiamen -Wuyi Mountain by bullet train B.L
This morning you'll visit Chuxi Hakka House or Nanxi Hakka House. Afternoon you'll driven back to Xiamen, and then transfer to railway station to take bullet train to Wuyishan.
Chuxi Hakak House is 15 km away from Xiayang Town; it includes five large circular buildings and ten rectangular buildings. All building names share the common word "Qing", meaning "celebration" (such as Jiqinglu and Shengqinglu), which reflects the hospitable nature of the Hakka people.
Located in Hukeng Town of Yongding County, Nanxi Tulou Hakaka House stretches for tens of miles. Along the way, there are three viewing decks, including Yanxianglou for appreciating earth buildings. Standing on high and seen from above, Nanxi Stream is passing through the long valley. In the whole valley, there are more than 100 earth buildings, in the shape of round or square, eight-square or hexangular, three-cornered or a "D".
Wuyi Mountain is one of China's best known beauty spots. A green river weaves its way around the red hills. Two of the best sites are of the "Three-Three" and the "Six-Six". The former is the river, which bends nine times as it meanders around the foot of the mountain, and the latter refers to the 36 peaks rising steeply from the river.
Day 05  Wuyi Mountain B.L
Full day visit Heavenly Peak, Wuyi Palace, Song Dynasty Street and Nine-Bend River.
The Heavenly peak stands at the centre of the Wuyi Scenic Area, commanding a bird's eye view of the fabulous Nine-twist Stream. On the top, one sees peaks over peaks below with beautiful landscape stretching to a misty distance.
The Wuyi Palace is the oldest palace in the Wuyi Mountain. Situated at the foot of the Great King Peak, the Wuyi Palace was first built in the Tianbao years (742-755 AD) of the Tang Dynasty and expanded to include more than 300 halls in the Song Dynasty.
The Nine-Bend Stream is in the south of the Wuyi Mountain Scenic Area. The stream rises in the Sanbao in the south of Huanggang Peak and meanders eastward into Xingcun Village, forming nine bends after entering the Wuyi Mountain Scenic Area, where the stream zigzags downward. That's why it's named "Nice-Bend Stream".
Day 06  Wuyi Mountain-Xiamen B.L
Today you'll visit to A Thread of Sky, Tiger-Roaring Peak Water-Curtain Cave and Eagle Beak Peak, and then take afternoon bullet train back to Xiamen.
A Thread of Sky: Frequently shrouded in clouds and mist, it towers aloft over clusters of peaks. Ascending to its top, one feels as if traveling upon a sea of clouds high up the sky. Hence it becomes the most famous spot of Wuyishan.
The Water Curtain Cave is the biggest rock cave in the Wuyi Mountain Scenic Area. Located in the north side of Zhangtang Brook, the cave is formed due to the subsidence of the relatively soft rock strata of the horizontal rock strata as a result of flowing water erosion.
Eagle Beak Cliff, several hundred meters westward from the Heavenly Cart Frame, there can be seen a huge rock shaped like an eagle. Eagle Beak Cliff is a cliff rock of one integrated mass, being naked on the top and with the eastern edge standing out; it is sharp and crooked like a beak.
Day 07  Depart Xiamen B
Transfer to airport for homebound flight by own tickets.
End of your China tour.
Service included
A. Hotels (twin share basis) with breakfast
B. Private car or van with driver
C. English speaking tour guide
D. Entrance fees
E. Meals as listed in the itinerary.
F. Train tickets mentioned above
Service excluded
A. International airfare or train tickets.
B. Tips to guides and drivers.
Reservation
Tel: +86 178 1320 5162
E-mail: service@intochinatravel.com
Skype ID: intochinatravel