"Honeymoon is not just another vacation. It is an investment in memories for the rest of your life". And China is absolutely a good destination to spend your sweet days. Here below is a list of the 7  honeymoon places in China for your reference.
1. Lijiang (丽江)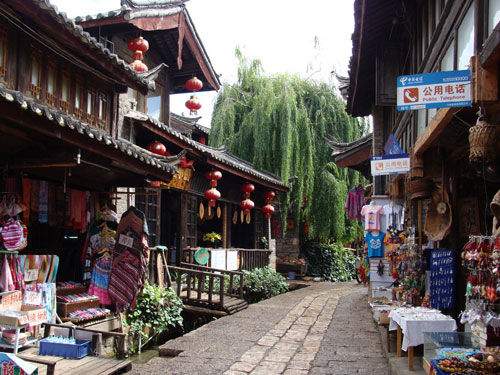 Lijiang is the perfect place for lovers and honeymooners. Lijiang is famous for its wooden houses, its canals, its cobblestone streets and Naxi culture. A  list of things to do here would include the ancient town tour, hiking in the Tiger Leaping Gorge and, last but not least, spectacular out-of-town golf on courses surrounded by towering peaks. A popular activity among couples is to light a candlelit float, and let it gently head downriver.
2. Liangshan  (凉山)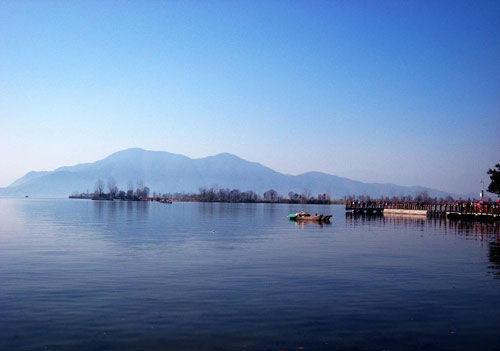 Liangshan is the largest compact community of Yi in China, situated in southwest Sichuan. The best time to visit Liangshan is in early or mid-August. when the grand Torch Festival of the Yi ethnic minority will be held annualy. The festival is also called the Oriental Valentine's Day as young people approach and court their favored ones during the public dancing and singing. In Butuo county, young men and women meet through a more extreme form – the wrestling game. Other events include beauty contests, gourmet festivals, horse racing, cockfighting and folk singing.
 3. West Lake (西湖)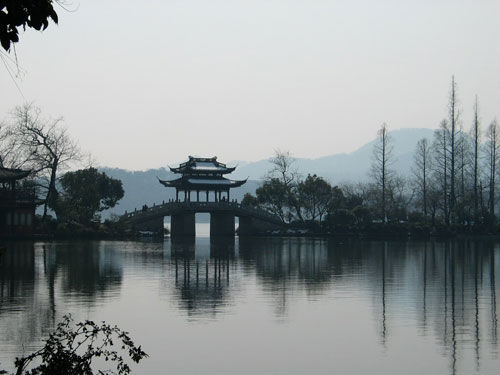 West Lake in Hangzhou, a famous place of interest in China. There is a famous bridge on West Lake. It is called Broken Bridge. Although it is called Broken Bridge, it is not actually broken. Broken Bridge is famous because of its beautiful winter scene, but even more so because of a love story. It is the place where the beautiful Chinese love story of Xuxian and Bainiangzi started. It is not a true story, but almost every one in China knows this story.
 4. Tibet (西藏)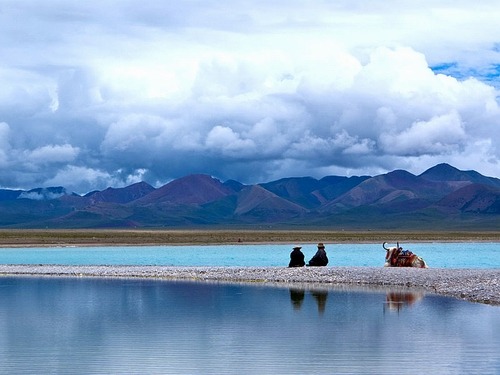 Tibet is a very special place for your honeymoon trip.  The mystery within its culture and its unique religious belief  made Tibet a life-time experience. It is said that after a visit to Tibet, you will feel there is no barrier in your lifetime that cannot be crossed over. That's true. Just look at the blue sky, the lakes as smooth as a mirror, and the devout Buddhists who prostrate themselves humbly on the roadside. Everything there is so special and touching that it indeed is a land of purity and holiness.
5. Yangshuo (阳朔)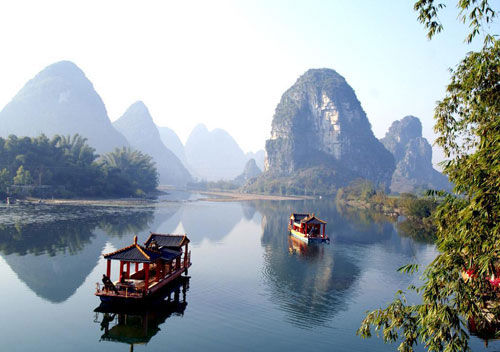 It is a good idea to travel to small town Yangshuo for your Honeymoon vocation. You can wander in the famous West Street or have a bamboo rafting along Yulong River or cruise Li River to enjoy the beautiful nature and two person world. It is absolutely a romantic time for the couples to explore the quiet countryside riding on the tandem bike.
6. Fenghuang (凤凰)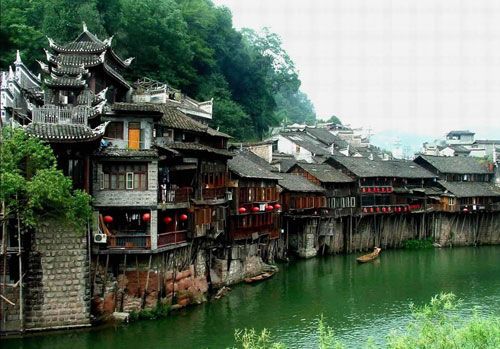 Legend has it a phoenix flew over Fenghuang, and was so entranced that it hovered over the town, unable to break away. Fenghuang is also a literary town: the birth-place of Shen Congwen, who's novel Border Town, was set by the banks of the Tuojiang River. And it is populated by Miao Minority people. And most important  it's virtually unknown outside China.
7. Jiuzhaigou (九寨沟)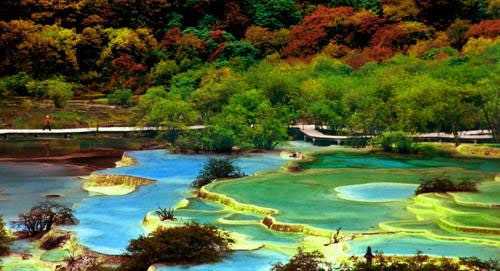 Jiuzhaigou is located in Sichuan Province. It has primeval forests with 108 crystal clear lakes and varieties of colorful pools and beautiful falls, so the place is sometimes known as the "Fairyland" by the locals. It is such a nice tourist attraction for honeymoon! No wonder so many Chinese new couples fly there to take their wedding shots.