Three Gorges Dam is the world's largest dam – and one of mankind's greatest engineering projects.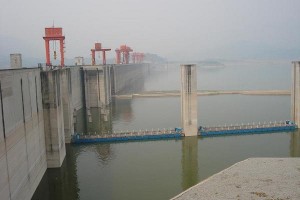 The Three Gorges Dam Project was completed in 2009. Situated at Sandouping Town of Yichang City, Hubei Province. The Three Gorges Dam includes three areas: the dam, a hydroelectric, and a system of locks. The height of the Three Gorges Dam is 185 meters above the sea level. The dam is about 2,300 meters long and about 115 meters wide.
With the construction of the Three Gorges Dam, an artificial lake was created which is 600 kilometers in length and 1.1 km wide on average. Since the completion of the project, 22 billion cubic meters of water storage is available for flood retention during the critical season.
It is the largest hydropower station in the world. The 32 turbines can be used to generate 88.2 terawatt hours of electrical energy a year. This form of energy generation saves on the burning of several million metric tons of coal each year.
Most travelers often feel the Three Gorges trip to be the perfect break from the clamor of China, and a cruise on the Yangtze is likely to remain one of the most pleasant memories of many China trips.