Simatai Great Wall (司马台长城) is the only section of Great Wall which still retains original appearance. It is ranked first in the list of the "World's Top 25 Scenic Spots" by the Times newspaper.  The wall snakes the ridge of the steep mountain, making it the most dangerous part that is accessible to visitors. It is really a tough hike to climb the wall, but it is enormously rewarding.  This non-shopping tour starts early morning from Beijing and allows you to have 3 hours to hike on this amazing Great Wall.
Tour Code: BC07
Departure: Daily | No-Shopping
Language: No Guide (Include Tour Coach and Entrance Tickets Only)
Tour Type: Group
Price: USD55 per person
Duration: Approx.8 hours
Pick-up point and time: Your hotel(within the 2nd ring road)between 5:30am and 7:00am
Finishing point and time: Subway station around 6:00pm
Note: Our pick up area is within the 2nd ring road, if you are not in our coverage area, please go to McDonald's restaurant nearby Exit C (C口) of Dongzhi Men Station (东直门站) of subway.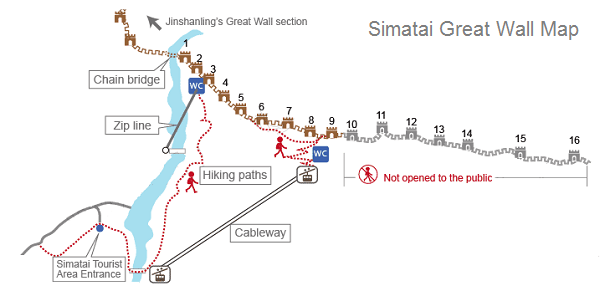 ---
Details
Our driver will pick you up between 5:30-7:00 a.m from your hotel in downtown Beijing. After 2.5 hours ride, you will arrive at the Gubei Water Town. Visit this ancient style water town on you own. Regarded as 'Wuzhen in Beijing', Gubei Water Town allows you to see beautiful mountains, water and ancient villages.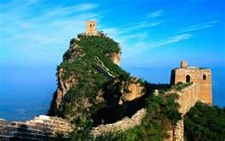 Then you can visit the Simatai Great Wall, This section of wall was built between 1368-1398 during the Ming Dynasty. Simatai Great Wall is known for its steepness, ruggedness and outstanding beauty, many parts still keep its original look, so it is one of the most liked Great Wall sections by hikers.
Simatai Great Wall is divided into two parts by the Simatai Reservoir, We will hike the east section. This part has 16 towers in total, but only 10 of them are open to tourists, the other 6 towers are dangerous and not allowed to climb due to safety reason. After reaching the 10th tower, you can either hike down or take a cable car down (optional and expense no your own). The hiking lasts for about 3 hours.  Lunch on your own. Then  at around 15:00 drive back to downtown and drop-off along the subway station around 6:00pm.
---
Inclusions
1. Entrance tickets
2. Air-conditioned tour coach
3. Free hotel pick-up for hotels within 2nd ring road
5. Return to downtown and drop-off along the subway station
Exclusions:
1. Cable car
2. Meals
3. Guide service
Notes
1. You will be contacted before 11:00 p.m. one day in advance to let you know pickup information via phone or leaving a message to your hotel. Please call us back at +86 178 1320 5162 for urgent matters.
2. We accept payment via PayPal and cash only. You can pay via PayPal before the tour date or pay cash in USD or RMB when pick up.
Hiking Tips
1. Comfortable shoes with good grip are a must.
2. Bring some snacks and several bottled waters.
3. Take layers of clothing so you can adjust according to the weather.
4. Take sun glasses and sunscreen to protect against sunburn
5. Cable car is optional, single way is RMB90 and round way RMB160.
Booking
Tel: +86 178 1320 5162
E-mail: service@intochinatravel.com
Skype ID: intochinatravel