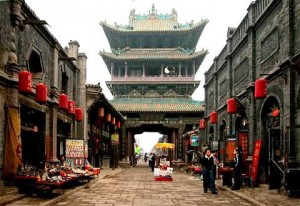 Pingyao Ancient City (Chinese:平遥古城) in central Shanxi province was awarded UNESCO World Heritage Site in 1997. Though Pingyao is just a small town, it was a famous financial center of the whole China from the 17th to 19th century.
The city's history can be dated back to 2,700 years ago. It was one of the important places where Shanxi Merchants' Culture gradually came into being. Rishengchang Draft Bank, China's first commercial bank, was found here in 1823. Its establishment ended Chinese's history of transporting currency in commercial transactions. During its prosperous time the merchants here controlled the wallet strings of Chinese Finance.
Besides its glory in the financial field, Pingyao city itself is an ancient city which still keeps its original style. You can get a glimpse at Chinese cities of the past through large numbers of shops, booths and other buildings in authentic styles of the Ming and Qing dynasties.
Tourists can get there by overnight train from Beijing or Xi'an. Or take a ride in car for about two 2 hours from provincial city Taiyuan.