Jinshanling Great Wall is about 140 kilometers northeast of Beijing city, Jinshanling Section connects to the Simatai Section of the wall in the east and Gubeikou section in the west. It is the most representative part of the Chinese brick-made dragon.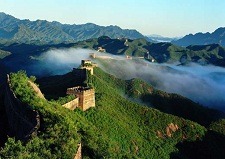 The wall was initially built between 1368 and 1389 during the Ming Dynasty and rebuilt in 1570 under the supervision of famous General Qi Jiguang, who supervised the building of a number of defensive works while entrusted with guarding northern China.
The total length of this section is about 11 kilometers. The Wall is about 7 meters high and 5 meters wide, and is made of brick and stone. The Jinshanling Great Wall has an elevation of 700 meters. There are more than 100 watch towers along the Jinshanling Great Wall. 'Watching Beijing Tower' is on the highest point, from which you can see Beijing. The Jinshanling Great Wall is second only to the Badaling Great Wall in its completeness.
Jinshanling Great Wall is the most popular hiking trip among all the sections of the wall around Beijing. You can take a one-day hiking from Jinshangling to Simatai or reverse. This hiking trip can take up to 4 hours.
Or you can do a two-day hiking including Gubeikou, Jinshanling and Simatai, in this case you have to stay one night at Jinshanling. The first day hiking from Gubeikou to Jinshanling can take 6 hours. At almost halfway toward Jinshanling, you have to get off the wall to avoid a military area. You will get back to the wall when you approach Jinshanling.
Related Tours:
Jinshanling Great Wall Bus Tour – $55