From Nov 1, 2017 to Feb 28, 2018, Huangshan's 51 A-level tourist sites will offer free or half price tickets to foreign passport holders, and residents from Hong Kong, Macao and Taiwan, according to Huangshan City Tourism Development Steering Committee.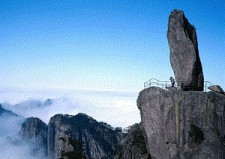 The Huangshan Tourism Bureau plans to offer free or half- price tickets during the period: Huangshan offers free tickets and other 50 A-level tourist sites offer half price tickets.
This policy is open to foreigners and people from Taiwan, Hong Kong and Macau. Tourists who want to enjoy this preferential policy need to  show the any ID as follows:
♦ Mainland Travel Permit for Hong Kong and Macao Residents
♦ Mainland Travel Permit for Taiwan Residents
♦ Long-term (permanent) residence permit for overseas Chinese
♦ Foreign passport.
This favorable policy does not apply to cable car, cruise, transport inside tourist sites, hot spring and other tourist items.
Huangshan (Chinese: 黄山), or known as the Yellow Mountain, is a UNESCO World Heritage site and popular tourist site in China. Besides Huangshan, Xidi and Hongcun Ancient Villages (UNESCO) are also worth a visit.
IntoChinaTravel offer one day or multiple days tours to Huangshan. We are pleased to arrange tours for you during the period and help you have an affordable trip to Huangshan.