110 km (68miles) east of Urumqi, in the middle of Bogda Peak, the crescent-shaped Heavenly Lake lake deserves its name, Pearl of Heavenly Mountain (Tianshan Mountain).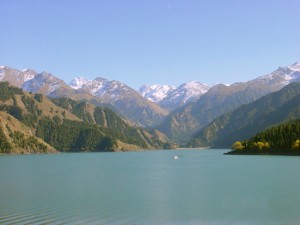 It is about 1,980 meters above sea level. The lake is 3,400 meters long, and 105 meters deep at its deep point and covers an area of 4. 9 square km. With melted snow as its source, Heavenly Lake enjoys crystal water.
The snow line of Mt. Bogda is 3,860 meters above sea level, making it rich in glacier resource. Numerous super-glacial rivers formed by the melting snow and ice, ice bridges, ice mushrooms and ice fountains can be seen on the glaciers.
it might take you about 4 hours drive to reach the destination. Throughout the journey, you will be passing through endless desert which might give you a sense of hopeless. But, when you finally arrive at Heavenly Lake, the breathtaking surrounding will definitely keep you impressed and forget all the tiredness along the journey.