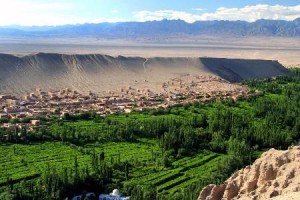 The charming Grape Valley is located among the Flaming Hill, about 10 kilometers north of Turpan, Xinjiang Province. It is a valley which is about 7 kilometers long and 2 kilometers wide.
The hill facing the side of the valley is green and is full of various fruits like peaches, apples, pears and so on. The houses for drying the grapes into raisin make the valley picturesque. The grapes in the valley come in various types such as Manaizi Grapes, Core-free White Grapes and Red Grapes.
In ancient times when the Silk Road was still in great use for travelers, and traders alike Turpan was a hot spot. Here they sold, and traded all kinds of goods, and one of those goods was Grape Valleys very own grapes, raisins, jams, and wines.
At present there are about 6,000 people including the Uygur, Hui and Han nationalities live here. When you look from the Flaming Hills towards the city of Turpan in the distance you can see nothing but glowing, barren red sand. The Grape Valley among the Flaming Hills shows its unique beauty to people and presents a striking contrast with the hot, dry and barren climate.