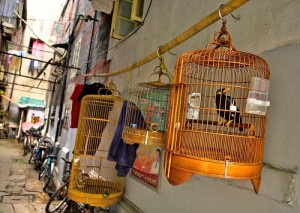 Tour Code: YN05
Destinations: Beijing, Kunming, Dali, Lijiang, Zhongdian, Hangzhou
Departure: Daily
Duration: 12 days
Language: English
Please send us an email to enquiry.
Details (B=Breakfast, L=Lunch, D=Dinner)
Day 1 Arrive Beijing
Today you will arrive in Beijing. Upon arrival, our local representative will meet you outside baggage claim and transfer you by private vehicle to Hotel.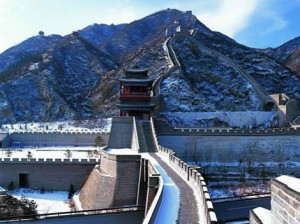 Day 2. Beijing B.L
Today you will have a full day visit to Juyongguan Great Wall, Summer Palace and 798 Art Zone. Evening enjoy the Peking Duck Dinner.
Day 3 Beijing-kunming B.L
Today morning you'll visit the Tian'anmen Square and Forbidden City. Late afternoon you will be transferred to airport for flight to Kunming. After arrival, meet and transfer to hotel for check-in. Remainder of the day is at your leisure.
Day 4 Kunming
Full day you will visit to Long men, Built on the steep rock hills, the carved stone "Long men" consists of the major part, which was cut from the 46th year of Qianlong Era (178l) to the third year of Xianfeng Time in the Qing Dynasty.
Then visit the Flower and Bird Market, Flower and Bird Market is along with old houses that are well kept in its immediate neighborhood, are now under Kunming's protection plan as the Old Town Quarter.
Day 5  Kunming -Dali B.L
Today morning you will be transferred to airport for flight to Dali. After arrival, meet and transfer to hotel for check-in and visit the Market in Xizhou, Yan Jia Courtyard and enjoy the cormorant fishing.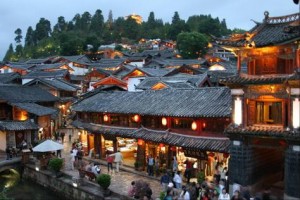 Day 6  Dali-Lijiang B.L
Today you will be droved to Lijiang. After arrival, you will be transferred to hotel for check-in and visit to the Ancient Town. Lijiang, at 2,440 meters, The town is the capital of Naxi people with a relatively small population of 250,000 but richly textured culture. The old town of Lijiang is an intimate mountain town of stone and tile, laced with swift canals.
Day 7  Lijiang B.L
Full day you will visit Baisha Fresco, Black Dargon Pool and Dongba Museum.
Day 8 Lijiang-Zhongdian B.L
Today you will be droved to Zhongdian, En route visit Tiger Leaping Gorge, First Bend of the Yangzi River. Arrive in Zhongdian, you will be transfer to hotel for check-in.
The Tiger Leaping Gorge is the Yangzi's best-known gorge after the Three Gorges in Sichuan and Hubei. It is 90 kilometers to the west of Lijiang. Wedged tightly between titanic cliffs, the river is so narrow here, as legend tells us, that a hunted tiger made his escape to the other side in a single bound.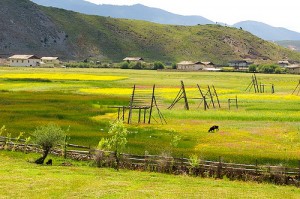 Day 9 Zhongdian B.L
Full day you will visit Songzanlin Monastery, Pudacuo National Park (Bita Lake & Shudu Lake) and Tibetan Village.
Songzanglin Monastery was founded in the 17th century during the reign of the Great Fifth Dalai Lama only 2 kilometers to the north of county proper.
Pudacuo National Park incorporates the Bita Lake Nature Reserve and the Duhu Scenic Area in the Hongshan region. As such they are part of the Three Parallel Rivers of Yunnan Protected Areas World Heritage Site.
Tibetan village, with a population of 112 thousand people, the Tibetan minority takes up one third of the total in Diqing Tibetan Autonomous Prefecture. They believe in Lamaism, a major branch of Buddhism.
Day 10 Zhongdian B.L
Full day you will be droved to visit White Water Terrace.
The White Water Terraces is located in the foothills of the Haba Snow Mountains, 101 kilometers (about 62 miles) southeast of the Zhongdian County. It is known as one of the most attractive destinations in mysterious Shangri-La and is an ancient Chinese landform with a history of 200,000 to 300,000 years.
Day 11  Zhongdian-Hangzhou B.L
Morning transfer to airport for flight to Kunming to connect flight to Hanghzhou. Arrive in Hangzhou, meet and transfer to hotel, the remainder of the day is at your leisure.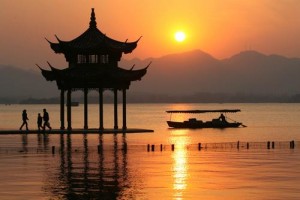 Day 12  Hangzhou B.L
Full day enjoy cruise on West Lake, visit Lingyin Temple and Tea Plantation.
West Lake is one of the most famous tourist attractions in Hangzhou China. For centuries, the West Lake has been well known both for its picturesque landscape and for cultural heritage surviving yet illustrating the past dynasties.
Lingyin Temple Aside from the West Lake, It was first built by an Indian monk named Huili in 326A.D. The temple was named Lingyin Temple (Temple of Inspired Seclusion) for its environment is very beautiful and serene and suitable for "gods rest in seclusion".
A nice break from the lake is the Longjing tea plantation area. Hidden away in the southwest corner of the lake are some secluded walks and the village of Longjing itself. Longjing actually means, "Dragon Well" and according to legend, the Dragon Well was discovered in about 230AD!! This fresh spring water encouraged the people of Hangzhou to develop their own quality tea, and thus Longjing tea was born.
Day 13 Depart Hangzhou
Transfer to airport for homebound flight by own tickets. End of your China tour.
Service included
A. Hotels (twin share basis) with breakfast
B. Domestic flight of train ticket
C. Private car or van with driver
D. English speaking tour guide
E. Entrance fees
F. Meals as listed in the itinerary.
Service excluded
A. International airfare or train tickets.
B. Tips to guides and drivers.
Reservation
Tel: +86 178 1320 5162
E-mail: service@intochinatravel.com
Skype ID: intochinatravel