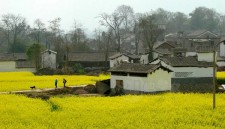 At the beginning of April, Canola (also known as rapeseed) flowers are in full bloom in Luoping County, Yunnan Province. Fields after fields of canola flowers farms there turn into a spectacular show of yellow color. In April, the terraces are also all green as rice started to grow. It is the best time for photography. You will have a pleasant journey in Yunnan.
Tour Code: YN10
Destinations: Kunming, Dongchuan, Luoping, Yuanyang, Jianshui, Kunming
Departure: Daily
Duration: 8days
Language: English
Please send us email to enquiry
Day 1. Kunming -Dongchuan Red Land (164km 4.5hours) D
Drive from Kungming to Dongchuan Red Land, Take beautiful pictures at Luosiwan and then shoot sunset and sunglow at Waliang Fangzi.
Day 2.  Dongchuan Red Land B. L
In early morning shoot sunrise at Damakan. Then continue to take photos at Jinxiu Garden, Qicaipo, Duoyishu, and Thousand-Year Ancient Tree. In the afternoon, shoot at Yueliangtian Terraces and Luoxiagou.
Day 3. Dongchuan Red Land – Luoping (420km 7.5 hours) B.L
After breakfast drive to Luoping.
Day 4 Luoping B.L
Photograph the sunrise above Ten Thousand Mountains, then take pictures at Niujieluosi Field. In the afternoon shoot at Jinji Fengcong scenic spot and visit Jiulong Waterfall.
Day 5. Luoping – Yuanyang Xinjie Town (370km 8hours) B.L
After breakfast, drive to Xinjie Town where Hani Terraces is located. If time permits enjoy sunset at Laohuzui Rice Terrace.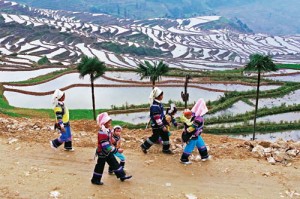 Day 6. Yuanyang B.L
Photograph sunrise at Duoyishu. Lunch at Shengcun Town, and continue to take photos at Shengcun Terraces and Bada Terraces. In the afternoon shoot sunglow at Longshuba Terraces.
Day 7. Yuanyang – Jianshui (152km 3 hours) B.L
In the morning visit Hani Minority Village. And shoot the terraces. After 3 hours' drive, we will arrive at Jianshui, visit Chaoyang Tower, Ancient Wells and Ancient Tofu Workshop, then the Double Dragon Bridge and Zhu Family Garden.
Day 8 Jianshui – Kunming (203km 3 hours) B.L
Drive from Jianshui to Kunming and see you off at Kunming airport.
Service included
A. Hotel rooms (twin share basis)
B. Entrance fees
C. Private English-speaking tour guide
D. Luggage transfers between train and hotels
E. Private driver and private car for private transfers & sightseeing
F. Meals mentioned in the itinerary
Service excluded
A. Air tickets and tax
B. Visa fees.
C. Tips to guides or drivers.
Reservation
Tel: +86 178 1320 5162
E-mail: service@intochinatravel.com
Skype ID: intochinatravel