Go to the west China to explore the mysterious land, to get close to the minority life and to discover the imaginary landscape, all in this 20 Days journey. You will visit ancient city Beijing. After that, starts your journey to the Tibetan Plateau from divine Lhasa to colorful Lijiang to  picturesque Guilin…You will have chance to get a closer look of the local culture and living ethnic customs.
Tour Code: CCT35
Destinations: Beijing, Lhasa, Gyantse, Shigatse, Xi'an, Lijiang, Kunming, Yangshuo
Departure: Daily
Duration: 20 days
Language: English
Please send us an email to enquiry.
Details (B=Breakfast, L=Lunch, D=Dinner)
Day 1 Arrive Beijing
When arriving in Beijing. Our local representative will meet you outside baggage claim and transfer you by private vehicle to downtown city. you will transferred to hotel to check in
Day 2 Beijing  B.L
Today you will enjoy a full day tour to include Tian'anmen Square,which is the largest public square in the world. Then visit the Forbidden City, also called Imperial Palace Museum. It remained the residence of the emperors for nearly five hundred years, from the 15th century to the early 20th century. you will then visit the Temple of Heaven, the most holy of Beijing's Imperial temples.This evening you'll enjoy a stunning show – "The Legend of Kongfu."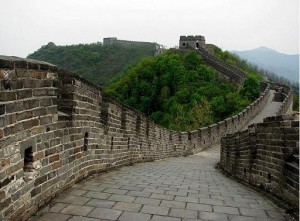 Day 3 Beijing B.L
Today you'll have a full day tour to include Great Wall Mutianyu section, the Great Wall of China was built mainly to protect the Chinese Empire from the Mongolians and other invaders. Then visit the Ming Tombs, here is where 13 emperors of the Ming dynasty (1368-1644) were buried, and the area is known as the Ming Tombs. After visit the Way of Spirit, you will be transferred to the city.
Day 4 Beijing  B.L
Today you will visit to the Summer Palace, The Summer Palace is one of the finest landmarks in Beijing.  and the Silk Market, you will also have some free time to enjoy yourself.
Day 5 Beijing/Lhasa B
Take flight to Lhasa. You'll be met with a local guide and transferred to your hotel to check in
Day 6 Lhasa B.L
Today you will visit the unique Potala Palace, the Jokhang Temple, the Bakhor Bazaar and the Sera Monastery. Lhasa, literally meaning "Holy-Land", is the heart and soul of Tibet, has a history of more than 1,300 years. It rose to prominence as an important center of administrative power in the 7th century AD, when Songtsen Gampo, a local ruler in the Yarlung Valley, continued the task of unifying Tibet. Songtsen Gampo moved his capital to Lhasa and built a palace on the site that is now occupied by the Potala. The fifth Dalai Lama also made Lhasa his capital. He built his palace, the Potala, on the site of ruins of Songtsen Gampo's 7th century palace, Lhasa has remained Tibet's capital since 1642, and most of the city's historical sights date from this second stage of the city's development.
Day 7 Lhasa/Gyantse/Shigatse B.L
Today, we will drive to Gyantse, en rout visit the Yamdrok Lake, pelkhor Choden Monastery and Gyantse Fort. Then we'll drive to Shigatse and check into hotel.
Day 8 Shigatze/Tingri  B.L
Today we will drive to Tingri and on the way visit to the Sakya Monastery. Sakya Monastery, sakya, meaning "Grey Soil" in Tibetan since the soil surrounding it is gray; it is the central monastery of Sakyapa sect of Tibetan Buddhism. Its walls were painted in red, white and grey strips, which represent Manjushri, Avalokiteshvara and Vajrapani respectively. Since the monastery has a colossal collection of highly valuable art pieces, it is deemed as the "Second Dunhuang". The Drum River divides it into the Northern Monastery and the Southern Monastery.
Day 9 Tingri/Lhatse B.L
Today we will drive to Rongphu, visit the Rongphu Monastery. Rongphu Monastery is located to the north of the oblate Mt. Everest, the highest peak in the world. Seen from here, Mt. Everest appears like a lofty pyramid surrounded by mountains that touch the sky. Rongphu Monastery was built by a local lama in about 1899. The altitude is 5, 030 m. (16, 404.2 ft.) more or less, which is the highest among all the temples in the world. Then visit the Everest Base Camp (5200m). Everest Base Camp, Mount Qomolangma, also called Mt. Everest, is the highest peak in the world. Its Tibetan meaning of 'Goddess the Third' adds more mysterious color and magic power to the subject.Continue drive to Lhatse for overnight.
Day 10 Lhatse/ Lhasa  B.L
Today we'll drive back to Lhasa, visit the Tashilunpo Monastery en route. Standing on the entrance of Tashilunpo Monastery, visitors can see the grand buildings with golden roofs and white walls. The remarkable Thangka Wall which is nine floors high was built by the First Dalai Lama in 1468. The wall displays the images of Buddha on the 14th, 15th and 16th of May every year following the Tibetan Lunar Calendar. The images are so humongous that one can easily see it in Shigatse City.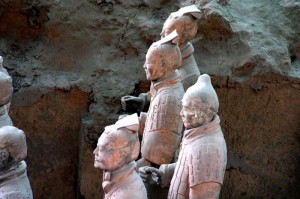 Day 11 Lhasa/Xi'an B.L
Transfer to airport for the earliest flight to Xi'an. Arrive Xi'an, you are met outside baggage claim and driven to downtown city. Visit City Wall from outside and visit Muslim quarter. You are then transferred to hotel to check in.
Day 12 Xi'an/Lijiang
In the morning, you will visit the Terra cotta Museum, then transfer to airport for flight to Lijiang. You are met outside luggage claim and transferred to hotel to check in.
Day 13 Lijiang B.L
Morning visit the Black Dragon Pool and Naxi Museum, in the afternoon, we will visit the old town, including viewing the old town from roof of Wangulou. Lijiang, It is said there is a fairyland beneath the colorful clouds of southern China. A place blessed with fresh air, clear streams, breathtaking snow-capped mountains, and an undisturbed landscape inhabited by a friendly group of people. Life in this fairyland is so peaceful, a fairyland called Lijiang, located at the hub of Tibet, Yunnan and Sichuan provinces.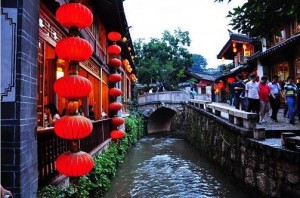 Day 14 Lijiang B.L
Today, you'll enjoy a full day tour to Jade Dragon Snow Mountain including chair-lift to Yunshanping and the show-Impression Lijiang. Return to old town in the afternoon and you'll have some time at leisure.
Day 15 Lijiang B.L
Today you'll have a full day trip to Tiger Leaping Gorge, which is the longest, deepest, and narrowest gorge in the world, and the First Bend of Yangtze River, which is where the Yangtze River, following a northwest course, plunges head – on into a high and cragged cliff, takes a sharp U-turn – believed to be the river's first bend as it flows on – and changes its course in a northeast direction.
Day 16 Lijiang/Kunming/Guilin  B.L
Today you will be transferred to airport for morning flight to Kunming, then drive to visit Stone Forest upon arrival. After the visit, return to Kunming airport for early evening flight to Guilin. You are met outside luggage claim and transferred to hotel
Day 17 Guilin B.L
Today you will have a full day trip to Longsheng to see the terrace field and visit minorities. This evening, you will enjoy the Cormorant Fishing Show.
Day 18 Guilin/Yangshuo B.L.D
Today you will enjoy the Li River cruise to Xingping then drive on to Yangshuo. You'll have some free time in the huge Yangshuo market. This evening you will enjoy the show – Impression Liu San jie
Day 19 Yangshuo B.L
This morning you will take the short Fuli cruise and visit this small town. In the afternoon, you'll visit Yangshuo to include Moon Hill, Banyan Tree Park.
Day 20 Yangshuo/Guilin/departure B
Today, you will drive back to Guilin and visit to the Fubo Hill, Reed Flute Cave and to see Elephant Trunk Hill from afar. Then transfer to aiport for your flight back.
Service included
A. Hotels (twin share basis) with breakfast
B. Flight or train tickets mentioned in the itinerary.
C. Private car or van with driver
D. English speaking tour guide
E. Entrance fees
F. Meals as listed in the itinerary.
G. Tibet Travel Permit
Service excluded
A. International airfare or train tickets.
B. Tips to guides and drivers.
Reservation:
Tel: +86 178 1320 5162
E-mail: service@intochinatravel.com
Skype ID: intochinatravel